eHydroCOM - Electric Stepless Capacity Control System
Solve stepless control tasks now – in seconds
HOERBIGER's eHydroCOM is the most powerful and compact all-electric stepless capacity control system available today for reciprocating compressors. It's the ideal way to achieve stable control of dynamic processes. Many reciprocating compressors need to deliver less than their rated capacity for much or all of the time. Traditionally, this requires excess compressed gas to be returned to the suction side via a recycle valve.
The energy used to compress this recycled gas is wasted, but eHydroCOM continuously adjusts the compressor's delivery rate to match the amount required by the downstream process. Precise control of the suction valves eliminates the need for a bypass. This not only saves you energy and reduces CO2 emissions, but also improves your process controls at the same time.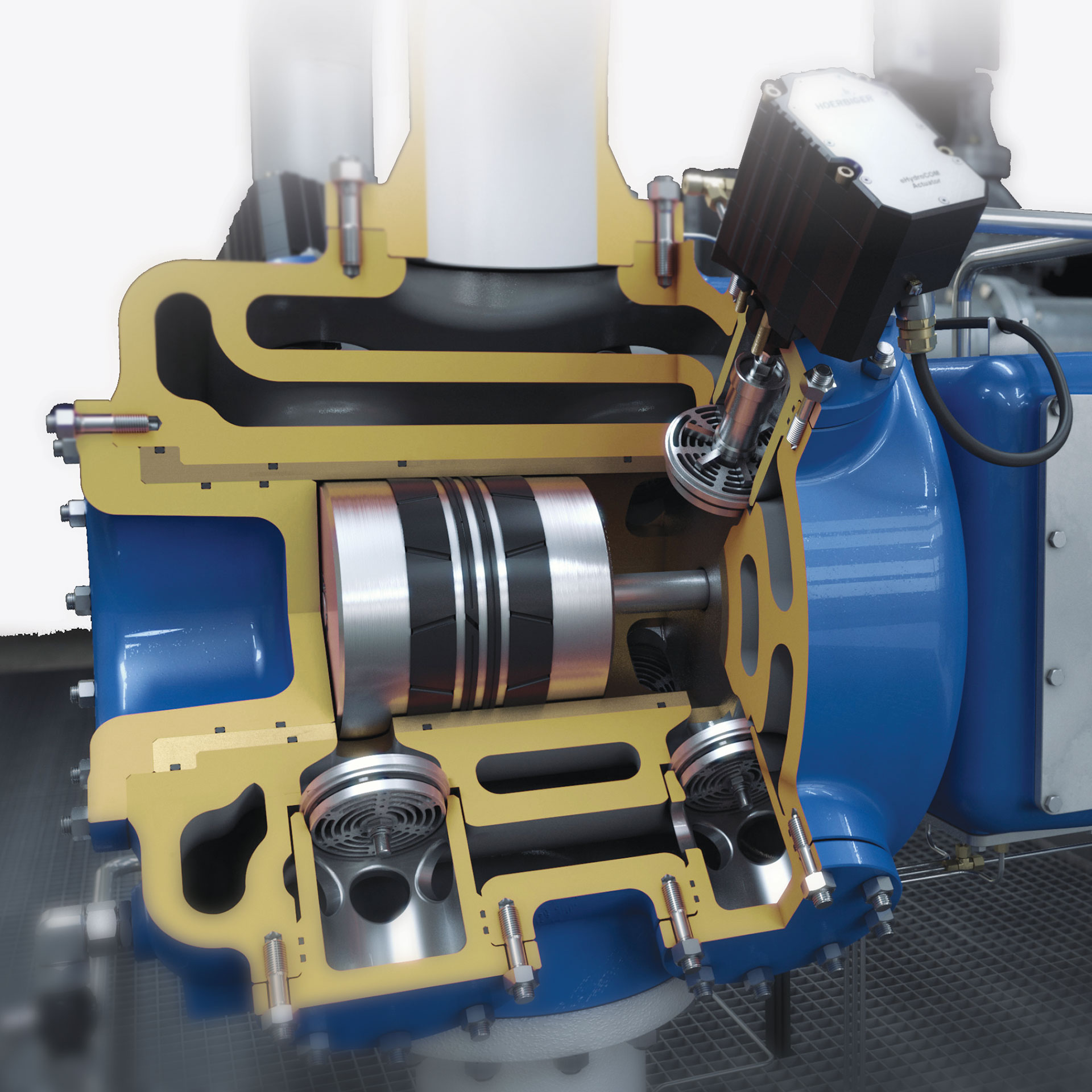 eHydroCOM – "one size fits all" means simplicity
eHydroCOM is easy to install and seamlessly integrates within your compressor system. Once installed, high energy losses and long downtimes become things of the past. Spares are simple to stock and quick to replace. In the rare event of a breakdown, you can quickly resume normal operation, minimizing both energy costs and emissions.
All the benefits of dynamic capacity control
eHydroCOM offers a wide range of control: stepless turn down from 10–100% allows for rapid, automatic capacity adjustments. Thanks to the broad control range and the ability to run your compressors more flexibly, you can meet demand with a smaller fleet and avoid overcapacity.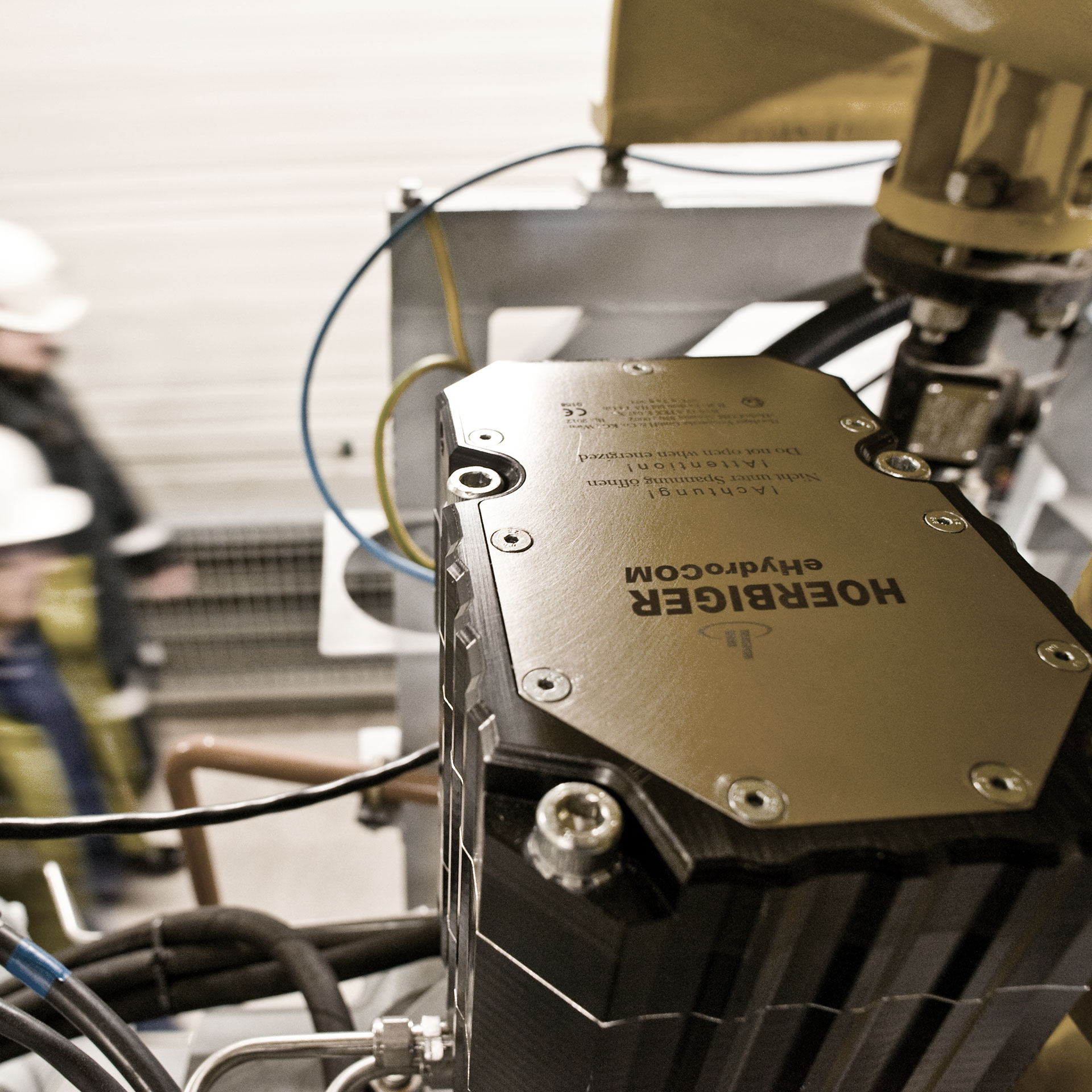 The details:
A reliable, low-maintenance and easy to integrate electromechanical solution.
With its clear system interfaces, eHydroCOM is easy to integrate into existing plant control systems. The patented eHydroCOM actuator is an intelligent device which combines advanced electric drive technologies to increase the reliability, efficiency and service life of your compressor. Take advantage of this innovative electromechanical control system's many benefits and our many years of expertise in optimizing compressor efficiency.
A low-maintenance solution
The patented eHydroCOM actuator is an intelligent device combining advanced electric drive technologies. Thanks to its electromagnetic operating principles, the system runs almost wear-free. The resulting long service life increases the efficiency of your compressors and supports sustainable production by reducing waste.
Saves energy and CO2 emission costs, while improving process control
Reverse flow control: The delivery rate of the compressor adjusts continuously to the requirements of the process.
No need for energy-wasting bypass valves
Minimizes energy use and cuts air pollution
Faster service and lower travel costs
Smaller fleet footprint, increased versatility, and no overcapacity
Reverse flow control: wide control range, and ability to assign new duties to individual compressors
Flexibility in the compressor fleet and fast response to changes
Minimal energy losses and emissions, because you can quickly resume normal operation
Standardized system: "one size fits all"
Easy device exchange and use of existing spare parts
Lower lifetime costs, sustainable production over a long service life, and less waste
Electromagnetic operating principle
With eHydroCOM, our employees – even those without years of operating experience – are able to start and stop the compressors. Thanks to the significantly more robust controls, pressure fluctuations in the hydrogen systems are almost imperceptible, and so we avoid unplanned downtime. The support through remote maintenance works perfectly.
Manager at a chemical park in Germany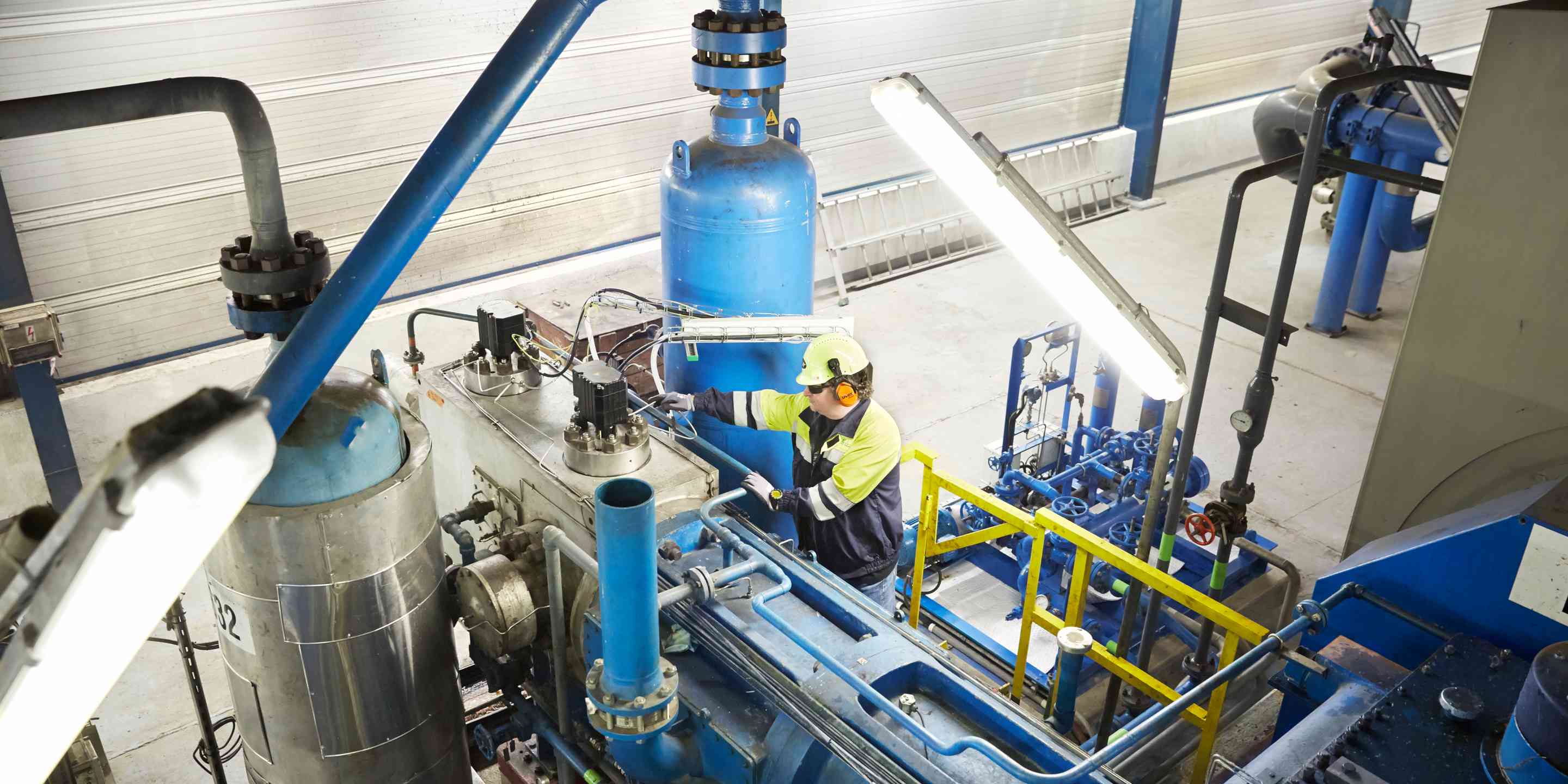 Solve stepless control tasks now – easily, while saving energy and reducing emissions
Don't just save energy and CO2 emission costs – improve your process control at the same time with eHydroCOM from HOERBIGER. Easy operation means that even personnel with less training can now start up and shut down your compressors. The electric stepless capacity control system precisely adjusts each compressor's delivery rate to the volume required by production, without having to relieve excess gas via a bypass. Reverse flow control provides a wide operating range and allows your reciprocating compressors to handle multiple duties.
eHydroCOM at a glance:
Simple installation and integration
Efficient and reliable operation
Simple and inexpensive maintenance
Control range:

(0...) 10*…100%

Suitable for hydrogen:

yes

Suitable for corrosive atmospheres:

yes

Suitable for non-lubricated operation:

yes

Suction valve:

plates, ring and profiled plates made of polymer

Ex certification:

ATEX, IECEx, TIS

* depending on the application