Hoerbiger News_July 25th, 2022
Technology partnership with the City of Vienna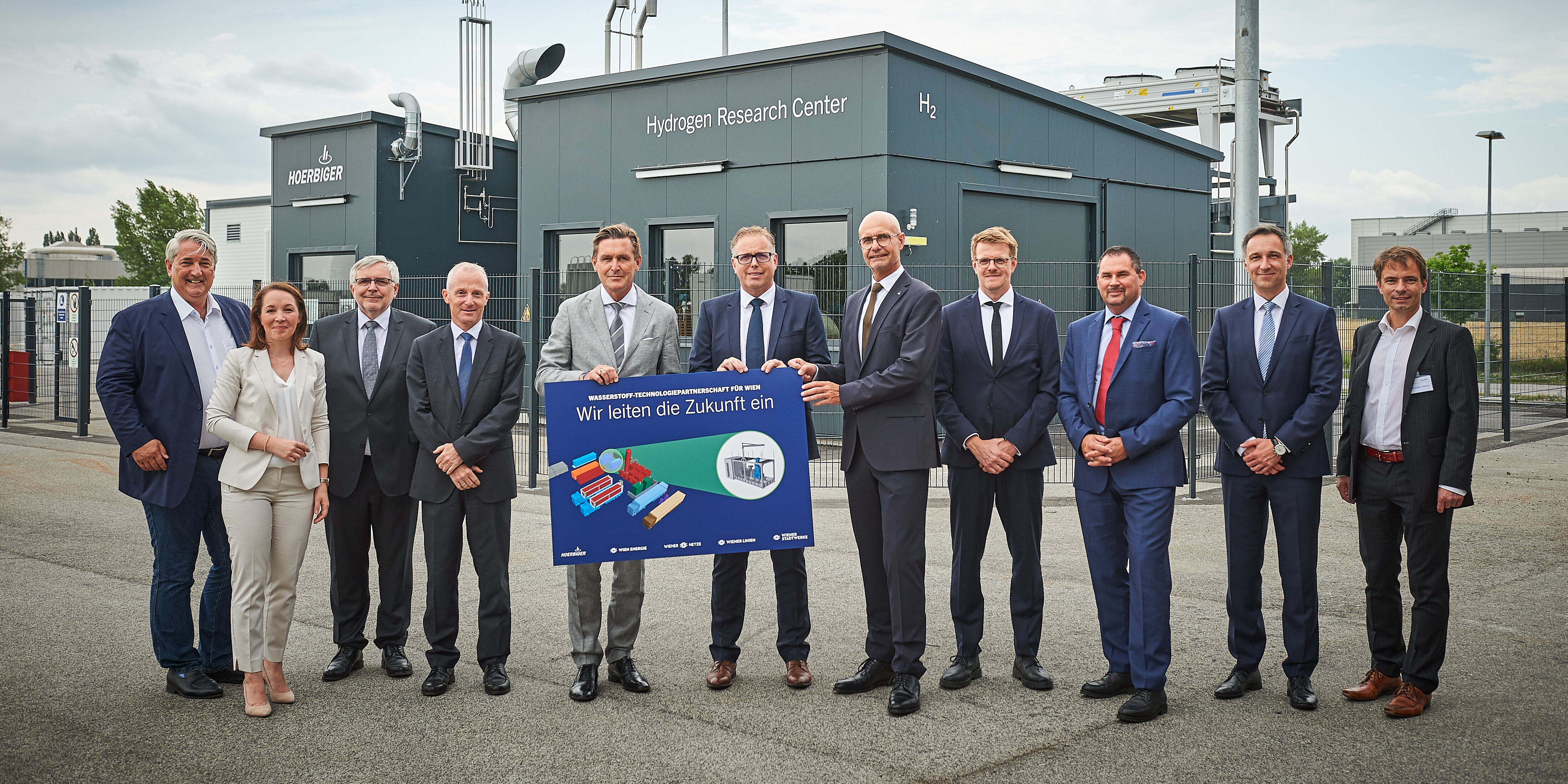 Together into the future
The aspired goal of making Vienna CO2-free by 2040 needs many initiatives and ideas. "Getting out of fossil gas is no easy task, we are well aware of that. So it is all the nicer when you can point out possible alternatives: the hydrogen strategy of Wiener Stadtwerke is one of these," emphasized City Councillor for Economic Affairs Peter Hanke at the signing of the technology partnership between Wiener Netze and Wien Energie with the HOERBIGER company in Aspern.
Economical compressor system with high reliability for hydrogen refueling in test run
Following the joint construction of a hydrogen refueling station for buses in Leopoldau, which is already being used by Wiener Linien, Wien Energie will build a hydrogen generation plant at the Wiener Netze site in Simmering this year. The compressor package required for efficient and reliable refueling will be provided thanks to the technology partnership just signed with the HOERBIGER company. "The test runs of the performance-determining components (such as valves) of the prototype that will be used in the Wien Energie and Wiener Netzen plant are already in full swing here at our H2 test center. The compressor works particularly reliably and efficiently due to the components developed at HOERBIGER," says Wolfgang Sautter, Head of the Compression Division at HOERBIGER. "The compression of hydrogen for zero-emission mobility is technically very complex because very high pressure of up to 1,000bar is required for this. Compressor components for this challenging application must not only be reliable and efficient, but also economically attractive. We are working on this in our research center," explains Markus Digruber, Head of Innovation and Business Development Division Compression at HOERBIGER.
Technology partnership creates jobs in Aspern
"I am proud that the Viennese company HOERBIGER, Wien Energie and Wiener Netze are officially entering into a technology partnership. Joint research creates a win-win situation. Not only for the partners involved, but also for Vienna and the people who live here. Investing in sustainable technologies is important for each individual - and for the next generation! In addition, jobs are created through the technology partnership," emphasized City Councilor Peter Hanke during the tour of HOERBIGER's H2 test center in Donaustadt.
"The technology partnership with HOERBIGER is important for us because it allows us to work with technology that was developed in Austria and because we also save costs through the test phase. We are working hand in hand and look forward to joint research at the planned H2 generation plant in Simmering," says Wiener Netze hydrogen project manager Helmut Meixner.
Green hydrogen production in Vienna
Hydrogen is to be produced at the Wiener Netze site in Simmering as early as 2023. "With green hydrogen 'Made in Vienna', we are another step closer to climate neutrality in 2040. The cooperation is an important building block for this: together we can successfully use and further develop innovative technologies to optimize the use of hydrogen even further," explains Michael Strebl, Chairman of the Wien Energie Management Board.
Wiener Linien plans to operate ten hydrogen buses on bus line 39A from Heiligenstadt to Sievering with the hydrogen generated by the end of 2024. the first five buses will arrive in 2023, the second five in 2024. But mobility is not the only field of use for Vienna hydrogen: Feeding it into the gas grid for industry and commerce and using it in combined heat and power plants are also under review.
Wiener Stadtwerke and its Group companies are the city's central climate protection partner. No other company has such leverage when it comes to real improvements on the road to climate neutrality. By 2026, Wiener Stadtwerke will have invested 6.2 billion euros, 91% of which is climate-friendly.
Press photos at this link: https://bit.ly/3xNEaG3
Copyright PID/Bohmann and Wiener Netze/Tucherl