CE – Profiled Ring Valve
For your process gas applications
Quality proven in thousands of
applications
The CE valve has been HOERBIGER's most popular ring valve for years. Positive experiences from a wide variety of uses attest to the performance of the CE valve in a broad field of applications. Thanks to its outstanding efficiency, the valve is suitable not only for hydrogen but also for heavy gases such as CO2, carbon monoxide and ethylene.
The HOERBIGER CE valve is optimally suited for applications in the chemical and process industries, in refineries, and in the energy sector. Successful experience from a large number of field installations proves the performance of the CE valve in a wide range of applications. The valve offers reliability and efficiency even under difficult conditions.
The long service life and high reliability of CE valves are the result of profiled ring / tapered seat arrangement, impact-resistant valve rings, unique anti-stiction design and the high performance spring technology. This extends maintenance intervals, reduces the risk of premature wear and the associated downtime, and lowers energy consumption.
CE valve at a glance:
High reliability
High efficiency and long service life
Low energy consumption
Safe sealing in wide temperature and pressure range
Broad application field and high degree of standardization help improve inventory management
Compressor speed:

1200 rpm maximum

Capacity control:

On/Off, HydroCOM, eHydroCOM

Lubrication:

lube and non-lube

Maximum pressure:

200 bar

Differential pressure:

100 bar

Temperature range:

-20°C to 210°C

Valve type diameter:

48 mm (1 ring) - 314 mm (8 rings)
CE valves ensure highest reliability
The CE valve is highly durable, robust and efficient and provides a proven industry solution that covers a wide range of applications.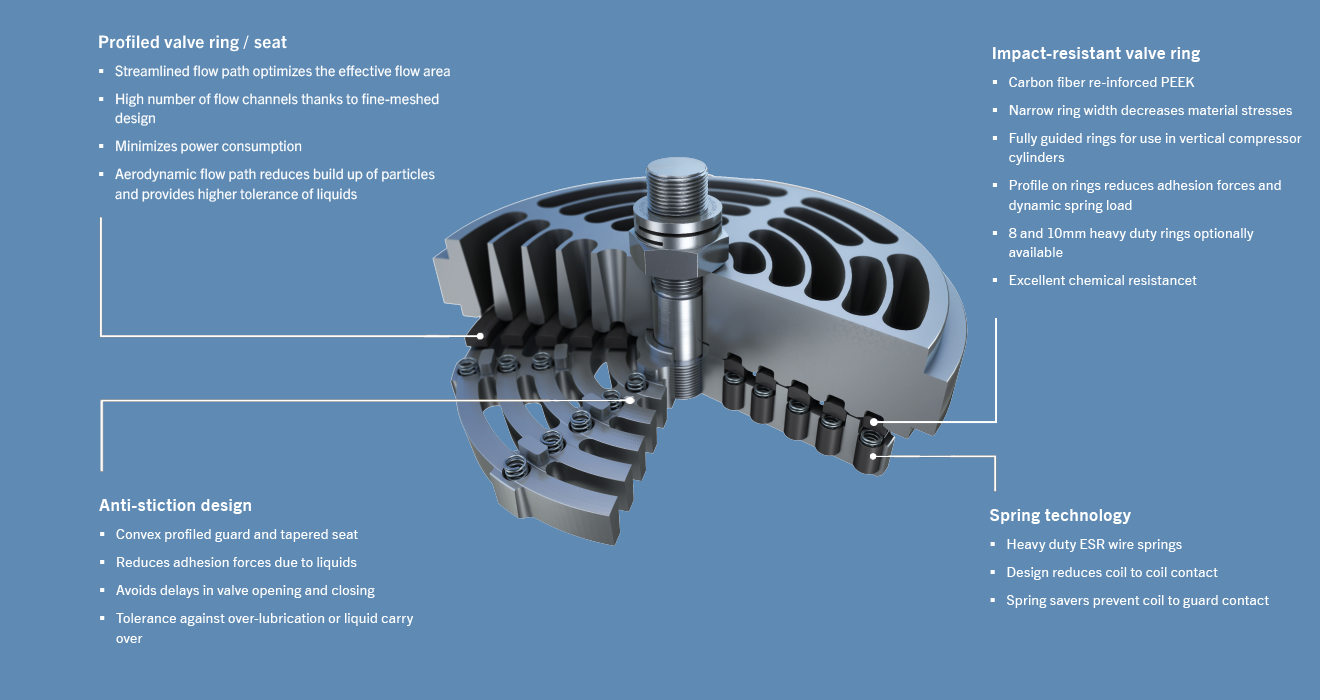 Long life and high
compressor uptime
Profiled ring design
High number of flow channels
Spring savers prevent coil to guard contact
Carbon fibre reinforced PEEK rings
Above industry standard in efficiency: 20 - 40% higher effective flow area than conventional plate or poppet valve.
Tribological optimization
High flexural strength and impact resistance
Superior reliability
Aerodynamic flow path
Fully guided rings
8 and 10mm heavy duty rings
Anti-stiction design: Convex profiled guard and tapered seat
Heavy duty springs made of ESR steel (Electro slag remelting)
Reduces build up of particles and provides
Suitable for vertical compressors
Designed for high dynamic loads (optionally available)
Reduces adhesion forces due to liquids
Avoids delays in valve opening and closing
Tolerance against over-lubrication or liquid carry over
Designed for high dynamic loads
Reduce OPEX
Heavy duty springs made of ESR steel (Electro slag remelting)
The most efficient ring valve. Tribological optimization.
Designed for high dynamic loads
Replace wear parts less frequently
Reduce main motor energy costs